Last week I reached the one year mark since having a seizure. I was out having lunch with my friend Randy Ennis. I didn't expect that it would be such a life changing experience, but it's made me appreciate every day that I've had since. I'm still recovering from the back injury I sustained, but I will say this last month I've probably seen the greatest improvement since the injury (16 weeks of physical therapy at Airrosti kinda starts to fix you, thank you Dr. Cybulski). I'm fortunate that Randy was there to make sure I was going to be alright. He called for help and grabbed me before I fell off the bench. It is strange how life works, the year before I happened to be with Randy when he had a severe heart attack. We were definitely meant to be friends.
It has been a great year. I was fortunate to be able to travel to many great places, I graduated from college, I've made great friends, and I'm moving forward. I remember how painful and difficult it was to lift my camera. For the most part, the main struggle that I have to fight now is keeping my attitude off the ground and denying any residual pain that I face. I'm super grateful for those moments, sometimes days, that I forget about being hurt in the first place. It means that things are finally healing.
A lot has changed since one of my original posts and the year mark. To celebrate, Randy and I went back to the same location to help put the entire event behind us. If you're struggling, hang in there and stay in good spirits as best you can. It makes more of a difference than you think. That was one hell of a BBQ sandwich.
-Louie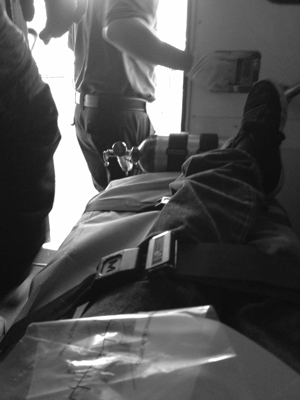 April 2013
April 2014